The App for your personal documents. Where and when you need them.
Your identity card, your partner's health policy, your car insurance, your household bills, your children's school fees…
It's all here, in your hands and safe. With Kipy.
Download Kipy for free now!
Bright, fast, protective. And you can focus on other things.
Kipy brings order to your personal and family documents, the peace of mind of finding them quickly, and sharing them when needed, knowing that you will never miss a deadline again.
Upload and organise documents.
Thanks to its Artificial Intelligence, Kipy instantly recognizes the data in your documents. You can quickly upload and organize them as a result.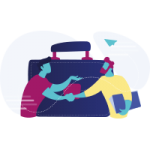 Share them for as long as you like.
You have control over your documents Kipy: you can share them with whoever you want, for as long as you want.
Deadlines? Kipy reminds you of them.
Kipy stores the expiry dates of your documents for you, and when the time comes, it will remind you that you need to renew them.
Kipy protects your documents.
Biometric recognition, encrypted data and access to the documents reserved for you and the people whit whom you have shared them.
What you can do with Kipy
And what she will do for you.
Digitalize your documents
Speed and Artificial Intelligence to upload your documents.
Thanks to its Artificial Intelligence, Kipy is able to recognize your personal documents at a glance and upload them in the blink of an eye.
Organized personal documents
Organize your documents into categories and with personal labels.
No more scattered documents around the house. Kipy suggests the best category to store them in the app and labels them, speeding up your search and giving you more time for yourself.
Document Sharing
Share them with whomever you want, safely, and for as long as you want.
You can securely share your personal documents via App or through a timed link. You can also choose to include a personal PIN or watermark to ensure they don't end up in the wrong hands! Kipy keeps track of all activities performed on each document to guarantee you full control.
Deadline Notification
Deadlines? Kipy will remind you!
You no longer have to worry about remembering when your driving license expires or when to pay your condo fees: Kipy stores your deadlines and reminds you with a notification. Moreover, you can synchronize Kipy's deadlines with your smartphone calendar, making everything even… easier!
Personal documents you can always have with you
One, ten, a hundred thousand. Just organize them.
Kipy takes care of it.
Kipy's reviews
"

"
EneaClaut
Una app fondamentale che, oltra alla dinamicità operativa, è utile per chi ha necessità di avere una serie di documenti, oltre a quelli strettamente personali, come ad esempio una visura camerale, con tanto di scadenza automatizzata, sempre a portata di mano, che, oltretutto, è complementare per chi ha documnetazione su cloud. Cinque stelle tutte meritate.

"

"
Francesco784
Rinnova i complimenti agli sviluppatori, ottima app, funzionamento preciso e servizio di assitenza super, ho avuto un problema nel riconoscimento del libretto auto ed è stato prontamente risolto. 5 stelle ma ne meriterebbero 10!!!

"

"
Diego Anas
The app works very well and i use it a lot during my daily life! Fantastic

"

"
Roberto Grossi
App perfetta che utilizzo per archiviare scontrini farmacia, scontrini per garanzia, quietanze di bollette, tasse e multe pagate. Vi si può inoltre salvare, in sicurezza, documenti da conservare quali carte identità e tessere sanitarie di tutti i familiari. Altro punto a favore, per null scontato, un servizio assitenza preparato ed efficiente.

"

"
Nello Romani
Unica app per digitalizzare qualsiasi documento cartaceo, organizzandolo per categorie, ricordando le scadenze, possibilità di condividerlo con protezionee molto altro. Complimenti al team rosa delle sviluppatrici! Consigliata!

"

"
Valente88
Ottima App per la scansione ed archiviazione dei propri documenti. Utilissima la funzione che ricorda le scadenze. Semplice ed intuitiva nell'utilizzo.